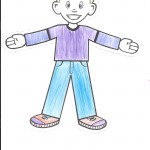 Name: Ella Wang
Date: October 5th, 2015
Location: Party in Nantong, China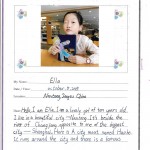 Hello, I am Ella. I am a lovely girl of ten years old.
I live in a beautiful city—Nantong.
It's beside the river of Changjiang, opposite to one of the biggest city—Shanghai.
Here is a city moat named Haohe.
It runs around the city and there is a famous mountain named wolf.
I have a happy family. My father and mother love me very much. My father is a doctor.
He tries his best to reduce pain of the patients.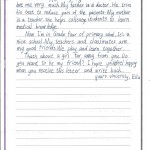 My mother is a teacher. She helps colleaege students to learn medical knowledge.
Now I'm in Grade four of primary school. It's a nice school.
My teachers and classmates are my good friends.
We play and learn together.
That's about a girl far away from you.
Do you want to be me friend?
I hope you'll feel happy when you receive this letter and write back.
Yours sincerely, Ella