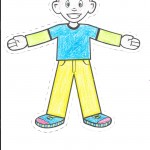 Name:Bonnie Lu
Date: October 4th, 2015
Location: Chongchuan Nan Chuan Yuan, Nantong, China
Hello!
My name is Bonnie. I'm a Chinese girl. I am twelve years old. I study in Cheng Zhong. We have seven subjects in my school.
There are English, Chinese, Maths, Art, PE, and Science. I like PE, Music and English.
B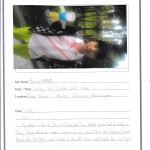 ut my English is not so good. I can play basketball, I am good at it.
I have a good friend. Her name is ZhangWenqian. We play together, eat togrther, study together…
My mother is a teacher. She likes shopping and playing computer games.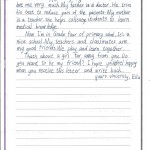 My father is a teacher too, he likes reading books. I love my family.
We have a National Day holiday now. I have a lot of fun in holiday. OK, good buy, Stanley.
Your friend Bonnie
4th, October.