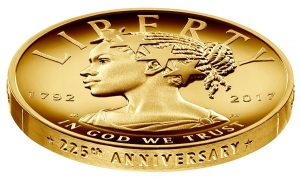 For the first time in American history, Lady Liberty will be portrayed as an African-American woman on U.S. currency.
In celebration of the U.S. Mint and Treasury's 225th anniversary, the new $100 coin was unveiled Thursday.
Lady Liberty, shown in profile, wears a crown of stars holding back her hair, with the inscriptions "LIBERTY," "1792," "2017," and "IN GOD WE TRUST."
The tails side of the coin features an eagle in flight.
"As we as a nation continue to evolve, so does liberty's representation," said Elisa Basnight, the chief of staff at the mint. "We live in a nation that affords us the opportunity to dream big and try to accomplish the seemingly impossible."
The image was designed by artist Justin Kunz and sculpted by Mint sculptor-engraver Phebe Hemphill.
The one-ounce, 24-karat coin, which is set to be released in April, is one of a series of new, diverse commemorative coins the mint will unveil in coming years.
A series of silver medals featuring the same designs will also be available.
Last year the Treasury announced plans for Harriet Tubman to replace Andrew Jackson on the front of the $20 bill.