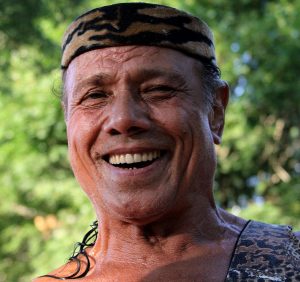 Professional wrestler Jimmy "Superfly" Snuka, a pioneer of high-flying moves off the top turnbuckles as the sport was just starting to break through to the mainstream, died Sunday at his son-in-law's home in Florida.
Wrestlers and fans took to the internet to mourn Snuka, a World Wrestling Entertainment superstar since the 1980s who spent 40 years helping build the popularity of wrestling and helping grow its fanbase with his flashy persona and uniquely exciting moves.
Snuka has been sick for some time and was reported to be in hospice in late December, when his lawyers said he could not stand trial on accusations he was responsible for the death of his girlfriend in 1983. The case was dismissed because Snuka has been suffering from dementia, and had been given six months to live by his doctors.
"Snuka is regarded by many as the pioneer of high-flying offense because of his Superfly Splash from the top turnbuckle," the WWE said in a press release. "His dive off the top of the steel cage onto Don Muraco at Madison Square Garden as hundreds of flash bulbs went off will forever live as one of the most memorable moments in WWE history."
Snuka, born in the Fiji Islands in 1943, came up in wrestling through amateur bodybuilding competitions and the smaller wrestling companies of the 1960s and 1970s.
Joining what was then called the World Wrestling Federation in 1982 as a heel, Snuka came to prominence for his high-flying tactics, including the "Superfly Splash" leap off the top turnbuckle onto an opponent.
Snuka made his name in the WWE during the 1980s, competing with a stream of standard-bearers of the sport including Hulk Hogan, Randy "Macho Man" Savage, Andre The Giant and "Rowdy" Roddy Piper.
Although he was not charged in the 1983 death of his girlfriend, Nancy Argentino, Snuka's account of the ordeal caused prosecutors in Pennsylvania to reopen the case and file murder and manslaughter charges against him in 2015.
The case was dismissed, despite inconsistencies in his explanation to police of what happened that night, because of dementia and what his attorneys claimed was a lack of understanding that he was on trial for murder in the first place.