We all want to live in a Yellow Submarine – even Lego.

On November 1, Lego is releasing a Yellow submarine model that includes John, Paul, George and Ringo minifigures (plus, a Jeremy figure).
The set includes more than 550 pieces. The completed sub measures 5″x9″x2″ and comes with a display stand. There's also a minifig display stand with a "Yellow Submarine" sign. Each figure comes with an accessory tied to the movie: John's telescope, Paul's  'Love' tile, Ringo's round 'half a hole' tile, George's submarine motor and Jeremy's apple. Retail price is $59.99.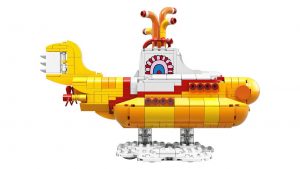 The Lego set's release comes just a few weeks after the 50th anniversary of the release of Revolver, the Beatles album that included "Yellow Submarine." The album was released on Aug. 5, 1966 in the U.S. and Britain. It spent seven weeks at No. 1 in the U.K. and six weeks at No. 1 in the U.S. The song itself peaked at No. 2 on the Billboard charts.

The Yellow Submarine model is based on the version in the 1968 animated film of the same name. The Beatles were actually unenthusiastic about doing the picture but they owed United Artists a third film after Help! and A Hard Day's Night to complete the contract they signed with the studio. But given their limited participation (their parts were actually voiced by other actors), the Beatles ended up doing another movie (Let it Be) to satisfy the contract. Think of this as the 1/2 in the Beatles 3 1/2 film oeuvre. Even with limited actual participation from the Fab Four, the sub and the sixties mod-styled animated Beatles are iconic images.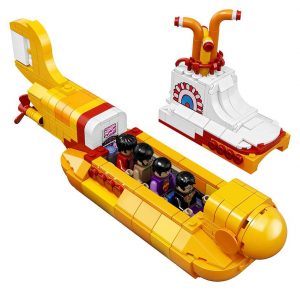 The Lego set comes out of the company's Ideas line, where fans can submit prospective sets to a website. Other fans vote on the ones they like the best and any set that gets 10,000 votes gets an official review from Lego. Of the sets that get reviews, perhaps 1 in 10 is actually approved for production. Yellow Submarine went up for review at the end of 2015 and was officially announced in June. The original fan designer get a royalty from Lego on each set and the pride of being a Lego designer. Licensed pop culture nostalgia sets (and near nostalgia sets) have proven to be popular Ideas choices: An original Ghostbusters Ecto-1, a Back to the Future DeLorean, Wall-E and the Big Bang Theory living room have all been produced in the line.
Lego also produced a fun preview video of the Yellow Submarine: