Overview: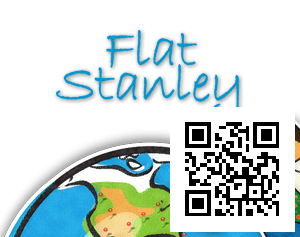 The basic principle of The Flat Stanley Project is to connect your child, student or classroom with other children or classrooms participating in the Project by sending out "flat" visitors, created by the children, through the mail (or digitally). Kids then talk about, track, and write about their flat character's journey and adventures.
Although similar to a pen-pal activity, Flat Stanley is actually much more enriching-students don't have to wonder where to begin or what to write about.
The sender and the recipient already have a mutual friend, Flat Stanley. Writing and learning becomes easier, flows naturally, and tends to be more creative. This is what teachers call an "authentic" literacy project, in that kids are inspired to write of their own passion and excitement about the project, and given the freedom to write about many things through the rubric of the Flat Stanley character.
Documenting Flat Stanley's Travels:
The Flat Stanley Project has lots of great ways you can share your Stanley's progress, track his or her journey, or enjoy the adventures he is having elsewhere around the globe.
We encourage you to use contact us and your students to publish stories, describe local traditions and scenery, talk about Stanley's adventures, and post pictures.
Happy traveling!