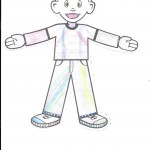 Name: Alice Zhu
Date: October 3rd, 2015
Location: Nantong, China 虹桥二小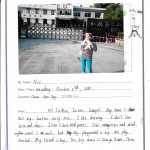 Hi! I'm Alice, I'm ten. I'm a girl. My home is not big. But it is very nice, I like drawing.
I don't like skirt and dress. I like T-shirt and pants.
I like eating crisps and salad. My school is small, but my playground is big.
We play football. My friend is boy.
This boy name is Xiao Yuxuan, China name is 肖宇轩.
He has big eyes, and small nose, he has big mouth.
He can sing. Like parrot. I like he.
Sunday, dad and mon and me go to playground, I can see some treesand brid. It's nice!