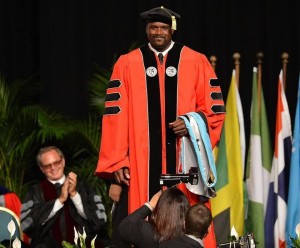 When Shaquille O'neal was drafted into the NBA, he spent the first million that he earned within 30 minutes. O'neal then received a phone call from his banker, who scolded him, and told him that he would end up joining the list of former athletes who ended up broke if the current trend continued.
O'neal decided to sharpen up his education on business and finance. He returned to college, completing his Bachelor's degree, followed by his M.B.A, and lastly, his Ed.D. That's right, he is now Dr. Shaquille O'neal.
As of today, Shaq is the joint owner of 155 Five Guys Burgers restaurants, 17 Auntie Annie's Pretzels restaurants, 150 car washes, 40 24-hour fitness centers, a shopping center, a movie theater, and several Las Vegas nightclubs.
In addition to his business holdings, O'neal still earns $22 million per year (roughly $423,000 per week) from his endorsement deals with Arizona Creme soda, Icy Hot, Gold Bond, Buick, Zales, and at least a half dozen additional corporate sponsors. He is also a studio analyst for TNT.
In Shaq's own words, "It is not about how much money you make. The question is are you educated enough to KEEP it."