To Join or Learn More About Dialect Zone International's It's A Flat World Project:
Please contact us by clicking here:
Visit the official instructions for Dialect Zone International's It's A Flat World Project:
Nantong Travel Guide:
Nantong Population: 7,737,900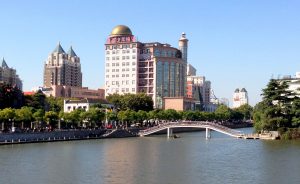 Area: 8,544 square kilometers (3,299 square miles)
Nationalities: Han
City Flower: Chrysanthemum
City Tree: Yulan Magnolia
Administrative Division: 2 districts (Chongchuan, Gangzha); 2 counties (Rudong, Haian); 4 county-level cities (Haimen, Qidong, Tongzhou, Rugao)
Useful Telephone Numbers:
Police: 110
Ambulance / First Aid: 120
Fire Department: 119
Weather Forecast: 121
Zip Code Inquiry: 184
Location:
Standing on the Yangtze River Delta, Nantong is in the central part of Jiangsu Province. The ports of China's coastal area can be reached through its estuary to the sea. Proceeding northward along the Yangtze River, the city can connect the thoroughfares with cities in Jiangsu, Anhui, Hubei, Hunan and Sichuan provinces.
Physical Features:
Nantong City is on the north bank of the Yangtze River, neighboring north Jiangsu Plain and separated from Shanghai by the Yangtze River. It is a fine port and the hinge of coastal transportation in Jiangsu's coastal area.
Climatic Features:
Enjoying a subtropical and warm temperate monsoon climate, the area has relatively moderate and favorable weather with enough sunshine and abundant rainfall. Its average temperature of a year is about 15C (59F). Just as other cities in Jiangsu Province, the rainy season of the city usually ranges from July to September.
When to Go:
Spring is the most favorable season to pay a visit, for the weather is neither hot nor cold. The water, garden and mountain landscape make the city in spring the most charming.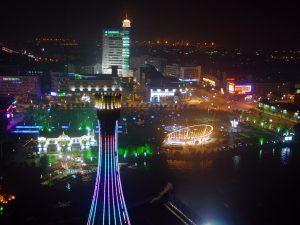 History:
This area was formed by the deposition of Yangtze River sediment in remote ages. In the Han Dynasty (206BC-220AD), it was a famous town prosperous in salt producing. It was in the Tang Dynasty (618-907) that Nantong began to be linked with the mainland of China. Before that period it was called Douzhou, an islet. From then on, it was well-known for its location leading everywhere.
Scenic Spots:
Hao River Scenic Area: The Hao River was once an ancient moat encircling Nantong City in the year of 958. With over a thousand years' history, the river is one of the four existent ancient moats in China. Along the Hao River, there are Tianning Temple, Nantong Museum and many squares, parks
Subscribe to Dialect Zone International.
Did you know that if you subscribe, you will receive email notifications whenever content changes or new content is added.
Enter your e-mail address below and click the Sign Me Up button.
You will receive an email asking you to confirm your intention of subscribing to our site.
Click the link in the email to confirm. That's all there is to it!
Subscribe to Dialect Zone International
Note: if you wish to unsubscribe from our site, click the unsubscribe link at the bottom of the email you received.
Then indicate you no longer wish to receive our emails.