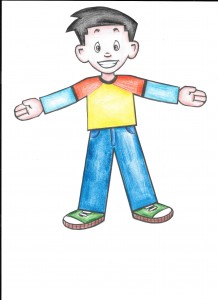 Name: Jack 施俊丞(Shi Juncheng)
Date: October 5th, 2015
Location: My Home, Nantong, China
Hello! My name is Jack.
I'm a Chinese boy.
I'm 13 years old.
Is a student.
I like PE lessons.
So I can play basketball and football.
But I play basketball not good.
I can draw well.
Do you think so?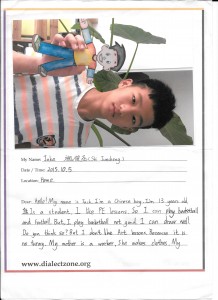 But I don't like Art lessons.
Because it is no funny.
My mother is a worker.
She makes cloths.
My father is a driver.
He drives taxi every day.
I am very like Chinese New Year.
Because on this festival.
We have very long days not go to school.
But I have to do homework.
It is not feel good!