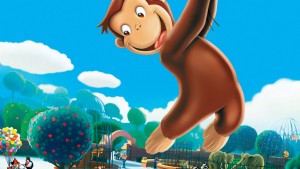 The Man in the Yellow Hat is an oddball museum employee who looks after his pet monkey – an inquisitive and wonderful creature whose enthusiasm often gets the best of him.
The man with the yellow hat named Ted Shackleford works at a natural history museum that's fallen on hard times. The museum director's son wants to turn it into a parking lot, but Ted offers to bring back a mysterious idol from Africa that's guaranteed to pull in crowds. Unfortunately, the idol turns out to be three inches tall. But Ted accidentally brings back a lonely yet irrepressible monkey, soon dubbed George. They set off on a non-stop action, fun-filled journey through the wonders of the big city toward the warmth of true friendship.
Ted, works as a guide at the Bloomsberry Museum, sent on a 'business' trip of sorts by the museum's owner, to find a Zagawa shrine, he encounters a playfully mischievous and curious monkey…actually a chimp who he nicknames 'George' after the George Washington statue. His trip being less than a success, he returns stateside, only to find George wanting to return Ted's hat, has stowed away on-board Ted's boat. Back in the states Ted finds himself lumbered with George, who can't help but make Ted's life even more hectic than it already is.
Director: Matthew O'Callaghan
Writers: Ken Kaufman (screenplay), Ken Kaufman (story)
Stars: Will Ferrell, Drew Barrymore, Eugene Levy